Do you have a small kitchen and don't know how to make it work for you? There are many ways you can make any size kitchen the perfect size for you. Maximizing cabinet space is one way to give yourself much needed storage; whether it is adding ceiling mounted cabinets or a kitchen island with cabinets and drawer space. Your kitchen can be customized to give you the maximum amount of storage solutions to fit your needs.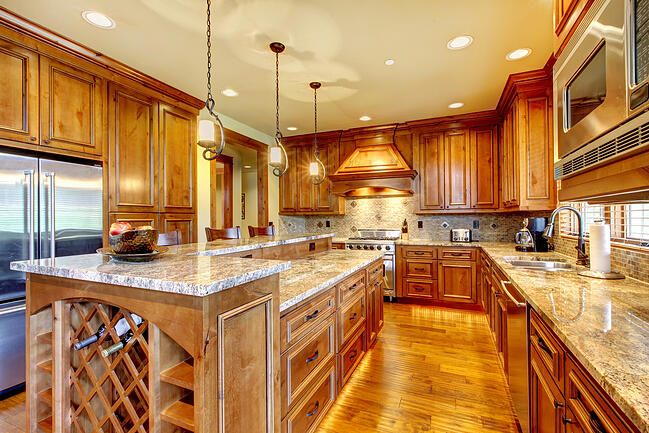 There are kitchen organisers that can help make what space you have more useful and organized. Some options to choose from are drawer organizers to sort things like silverware or utensils. Shelves can be added to the inside of your cabinet doors to hold things like cans and jars. You can also add convenient rotating and pull out storage systems to make things easier to access and add functionality to hard to reach places. These are excellent for cabinets such as corner cabinets that have small access doors compared to the space inside. An added rotating platform or tier of rotating shelves can make things more convenient to store and access where you normally would not think to store anything.
Make use of shelf space
Pull out shelves for waste binscome in handy to hide your kitchen rubbish and recycling cans so they're out of sight. Add a stick on air freshener inside the cabinet and you'll have a kitchen that looks and smells garbage free. If you entertain often and have guests that need to use your waste and recycling cans, a decorative label on the doors can show them exactly where they are located.
Adjustable shelving inside cabinets will allow you to personalize the space as needed for maximum space efficiency; such as being able to lower and raise shelves for different sized pans, bowls, etc. With adjustable shelves the limits of what you can store are only as limited as the height of the cabinet itself.
Too many pots and pans
Have more pots and pans than you have cabinet space to store them? Designer hooks can be installed to hang them for easy access; with the right look they can also add a personalized, decorative touch to your kitchen. You can also use similar systems for your utensils for easy access and extra space savings. With so many designs to choose from you can customize your kitchen to match your design and personality. Hooks can also be installed inside of cabinet doors to hang utensils from out of sight instead of in the open if you prefer to keep them hidden and free of any dust in the air.
Limited worktop space problems
Have limited worktop space you don't want to lose but want to have small appliances such as a microwave or toaster oven? Simply have one installed that mounts under your cabinets, leaving you much needed food prep area. Small appliances such as coffee makers and toasters can be stored inside a cabinet when not in use to leave counter space free.
Another way to maximize your work space is to install cabinets with built in, pull out cutting boards. These store neatly away when not in use, but add valuable food prep area when needed. Simply pull them out, prepare your meal, clean them off, and then push them back in out of the way.
Room to sit
Is it just you or you and a significant other? Want to be able to sit together to eat a meal but don't have the need or space for a full kitchen table and chairs? Install a kitchen island with bar seating to eat at for cozy or casual dining. No need for a table if you have an overhanging island to sit at, providing extra workspace and a place to sit and eat when the meal is done.
For more information on how we can help you maximize your kitchen space call Newcastle Kitchen and Bedroom CO today.